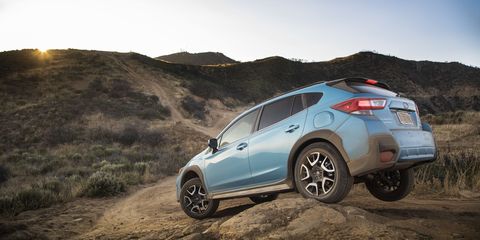 The 2020 Subaru Crosstrek is showing off customer-oriented design choices. The designers at Subaru have been working hard to make sure that this vehicle can fit all the needs of consumers in Painesville, OH, and we're excited to tell you about all the new features at Adventure Subaru.
Great Performance Features for Every Driver
The 2020 Subaru Crosstrek is built to have a long lifespan, and it includes Subaru's signature BOXER engine that allows the vehicle to ride lower to the ground. This gives it a better grip on the road and allows it to have a sharper turn radius.
Additionally, it lowers the overall weight of the vehicle, which can work to raise the gas mileage and protect against injuries in the case of an accident. Finally, its steel structure gives it the strength and rigidity it needs to handle regular use for extended periods. So far, this vehicle looks like it's going to be a classic.
Its Symmetrical All-Wheel drive gives it an advantage on the highway. By allowing the engine to provide power to each tire individually, it can give you extra force in inclement weather that you might encounter in Painesville, OH. It also has an advantage in the wilderness over a front-wheel-drive car. Its lightweight engine can help it stay out of the mud, and it won't leave you dead in the water if your front two wheels hit a wet spot on the ground. Many of these seemingly unrelated design choices are working together to give you a vehicle that's cohesive and functional in a wide variety of situations.
Visit Adventure Subaru to Discuss Financing
This vehicle can be affordable too. If you're worried about finances, you can easily visit our finance center today in Painesville, OH. You can take a test drive to try out all the great features in person. We look forward to working with you soon!