Mentor Schools Foundation Fundraiser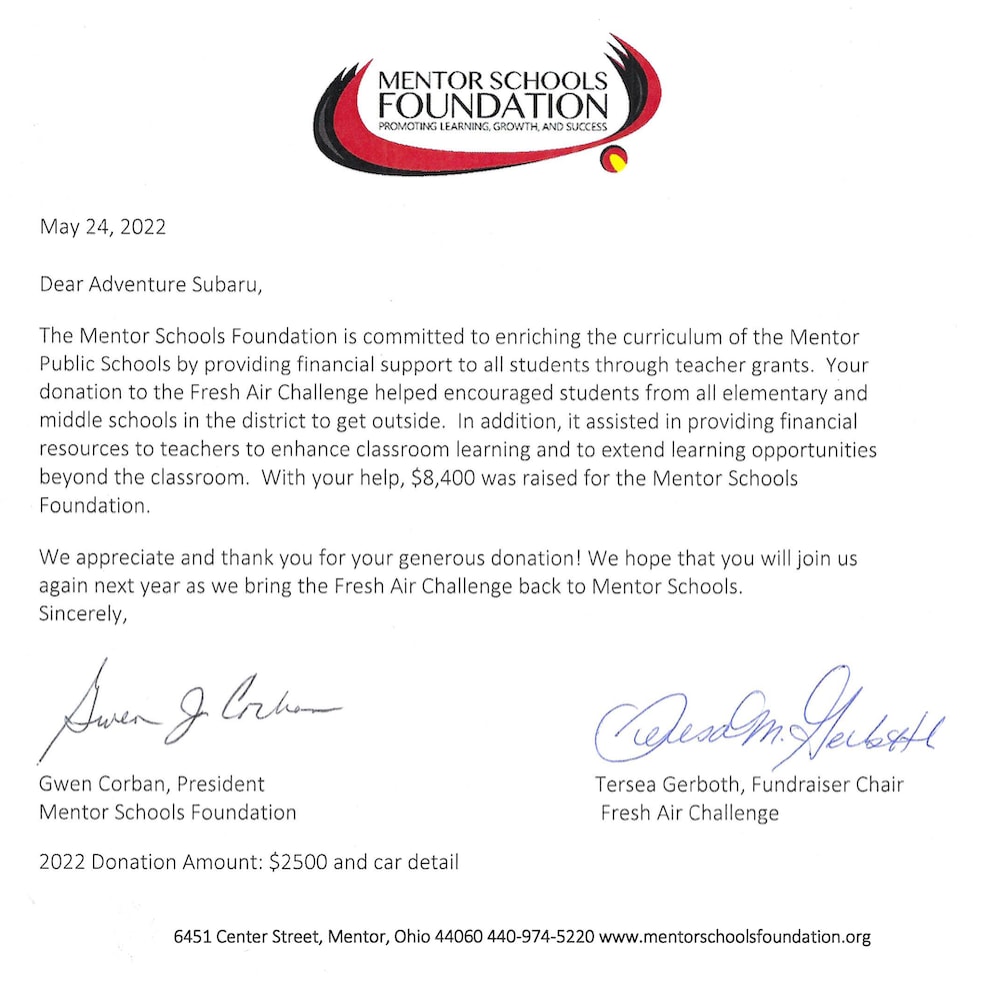 The Fresh Air Challenge
The Mentor Schools Foundation is sponsoring an exciting new program called the Fresh Air Challenge from April 29 - May 12, 2022.
Spending time in nature, with family and friends, recharges the spirit and fills the heart. Turn off the TV, put away the video games, leave the devices on the charger. Plant a garden, take a walk, fly a kite, visit a park. With Mentor Recreation, Lake Metroparks, school and youth sports, bike paths and so much more, our community offers endless possibilities.
Go outside, get moving, and enjoy the fresh air!
K-8 students ready to embrace the #FreshAirChallenge will each pledge just $1 to get started with their first 30 minutes. Logging more fun in the sun is easy by coloring in a cloud on their #FreshAirChallenge tracking sheets for every 30 minutes of activity. There is no additional cost. The sky's the limit!
"Fresh Air Challenge" funding and an array of great prizes have been donated by more than twenty generous corporate sponsors which include: the City of Mentor; Adventure Subaru; Brunner, Sanden & Deitrick; Climax Metal Products; Cardinal Soccer Club; and Mentor Marlins Swim Team. Every student who accepts the #FreshAirChallenge will receive one entry ticket for the prize drawings. Bonus entry tickets can be earned by gathering groups of 25 additional clouds. The more outdoor fun - the more chances to win!
Families are invited to share photos of their activities on Facebook, Instagram & Twitter using the hashtag #FreshAirChallenge.
All proceeds benefit the Mentor Schools Foundation Grant and Scholarship Program which provides funding for activities and projects which directly benefit Mentor Public Schools students. The #FreshAirChallenge will be a win-win, inside and OUTSIDE!
The Mentor Schools Foundation strives to enrich and enhance the Mentor Schools curriculum by providing financial resources for new and exciting learning opportunities beyond the classroom. The Mentor Schools Foundation was established in 1985 by local education, business and community leaders as a separate not-for-profit organization to assist the Mentor Public Schools in delivering quality education. The foundation provides additional financial resources to teachers to enhance classroom learning. Since its inception, more than $215,000 has been awarded in grant monies to support Mentor Schools projects.