The 2021 Subaru Love Promise Customer and Community Commitment Award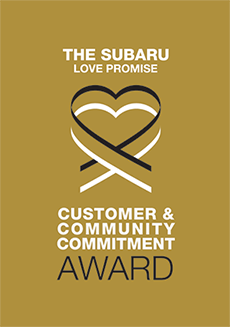 We've been nationally recognized for our dedication to our customers, our community, and the Subaru Love Promise.
We're honored to receive the 2021 Subaru Love Promise Customer and Community Commitment Award. This award nationally recognizes elite Subaru retailers who provide an exceptional customer experience at every interaction with Subaru. These retailers have also demonstrated an outstanding commitment to supporting passions and causes in their local communities in important areas such as the environment, community, health, education, and pets.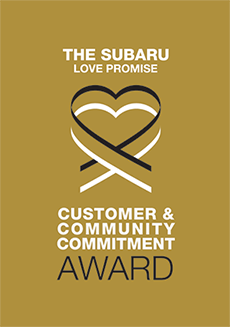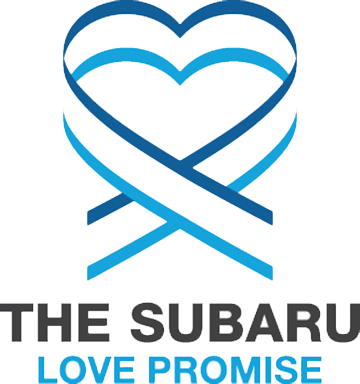 What is the Subaru Love Promise?
Subaru and our retailers believe in making the world a better place and the Subaru Love Promise is our vision of respecting all people. This is our commitment to show love and respect to our customers and to work to make a positive impact in the world.
How is Adventure Subaru dedicated locally to the Love Promise?
Our Love Promise can be seen in various partnerships with local charities and non-profits. We're grateful for the opportunity, not only to be a part of our community, but to serve it as well.
The Chagrin Valley Hunter Jumper Classic, Muttley Crue Rescue, GRIN Rescue, ASPCA, Geauga Humane Society Rescue Village
The Riverside Local Excellence for Education Found, Mentor Public Schools, Willoughby Eastlake City Schools
The United Way Feed Lake County, Believe In Dreams, Eastern Lake County Chamber of Commerce, Mentor Youth Softball, Make A Wish
National Multiple Sclerosis Society, Juvenile Diabetes Research Foundation, Leukemia & Lymphoma Society, American Red Cross
Love Promise Stories from Adventure Subaru
Subaru and Adventure Subaru believe in making a positive impact on the communities in which we live and work. We uphold that belief through our Love Promise Community Commitment. Every month, we select inspiring stories from customers and partners from around our area who strive to support our collective commitment and feature them here
Adventure Subaru's Support of UCP in Cleveland - Renee C
Not long after the global coronavirus pandemic hit in early 2020, UCP of Greater Cleveland received notice that we were chosen as Adventure Subaru's local nonprofit of choice for the 2020 year-end Share the Love Event. As many can believe, this came as shining, positive news during an otherwise very gloomy time. Since then, Dusty and his team have provided incredible opportunities for our staff to speak to sales associates at the dealership as well as film commercial spots, all of which help to further educate the public about our mission to serve children and adults with a wide range of disabilities. We are so appreciative and look forward to continuing this partnership!
---
Exceptional Service and Support Always - John C
Having purchased 3 Subaru's from Adventure Subaru Painesville they have always exceeded my expectations in regards to sales and customer service. Whenever I have any issues I know I can reach out to the team there specifically Vicky Musa, to make sure things are taken care of quickly and professionally. Whether its help on promotions, getting loaners or just making things easier for the customer - Adventure is always willing to do whatever it takes to satisfy the customer!
---
Make a Dog's Day! - Lisa I
Thanks to Adventure Subaru, we had our first-ever LIVE virtual showcase of over 22 animals. Due to COVID, our doors have been closed to the public, but our adoptions continue by appointment. It can be very difficult for people to choose who they want to meet without getting to see them in person, and having a live showcase was a great, new way for us to connect with our community of adopters and general animal lovers. Without Adventure Subaru's help, the showcase would not have been possible or even conceivable. We didn't know how to go about filming and ensuring we wouldn't lose internet connection, how the weather would hold out, how the animals and volunteers would manage a "parade" of dogs, especially LIVE. But it went GREAT, and we were so proud. Dusty Blechman from Adventure Subaru went above and beyond by helping us create a modified video version of the live event with employee titles and all the names of the animals, which we plan to use for marketing and on our website. The virtual showcase allowed us to find homes for dogs like Roy. Being a big bulldog, to many his looks were quite intimidating and he had been in another shelter for over a year. Many dogs will deteriorate mentally long before a year, but Roy held on and we scooped him up. The virtual showcase we held helped Roy and many other dogs like him get noticed and he was adopted the next day! Adventure Subaru also gave us bags that we put treats and toys in for the adopters. We are so grateful for our partnership with Adventure Subaru who were the wind beneath our wings for such unchartered territory as a live, virtual showcase! We are by no means professionals at live streaming, but we learned a lot and had so much fun and look forward to doing similar showcase events but on a smaller scale. The showcase was also a great way for people to learn more about who we are and what we do and meet some key staff members that make it all happen. Thank you Adventure Subaru!!
---
Adventure Subaru and the Cleveland Auto Show - Lisa I
We were THRILLED to be contacted by Subaru of America to be one of the key rescue agencies for an Adoption Event at the Cleveland Auto Show in Feb-Mar of 2020! Adventure Subaru, our community partner, set up a beautiful, large space that was decorated like a park with a gate for us to have our animals and keep them safe and clean while interacting with the public. Over 45 puppies were adopted through the two-weekend event! Adventure Subaru also set up a by-donation dog tag machine to ensure that all the puppies went home with proper I.D. and Rescue Village received the donations, along with generous donations from both Subaru of America and Adventure Subaru to keep our transport and adoption programs running strong! We received so much positive feedback from the visitors and adopters and can't thank Subaru enough for supporting us and our mission to save more lives and create a more humane community. One of the puppies that was adopted at the Cleveland Auto Show, Samson, attended our annual fundraising event, Woofstock, this summer, to play on the lure course! The staff was so excited to see him and be a part of his Adventure, and his parents were so proud and happy they found him at such a unique, fun and memorable Subaru event! We look forward to seeing Samson, and many more rescues thrive through our valued community partnership with Adventure Subaru -- they truly care about our rescues and the animal-loving community and go above and beyond with their support!
---
Walk to End Alzheimer's - Kathryn F
Adventure Subaru was a phenomenal Start Strong sponsor this year for the 2020 Kirtland Walk to End Alzheimer's! Rachel and Dusty were so incredible to work with during every stage from the first initial conversation, to Sponsorship, starting their Walk Team and truly the entire overall experience. Their passion for our mission and a world without Alzheimer's and all other Dementia's is so evident. They poured their hearts and souls into supporting the Association in many ways; fundraising, marketing and awareness just to name a few. Their presence during the view only Promise Garden display was a perfect way to start the drive-through experience. I look forward to working with Dusty and Rachel in the future and feel so blessed that our paths cross to connect this year to start a beautiful partnership for a cure. Kathryn Fellenstein Development Manager Alzheimer's Association- Cleveland Area Chapter
---
June 2019 - Subaru offers hope, love and warmth! - Lindsay S
Dusty Blechman of Adventure Auto Group Subaru was thrilled to visit The Cleveland Clinic Taussig Cancer Center. Armed with blankets and art kits, Amanda Maggiotto of the Cleveland Clinic guided Dusty and Executive Director, Lindsay Silverstein from the Northern Ohio Leukemia & Lymphoma Society chapter to visit the Taussig Cancer Center art room and to deliver the blankets to the social workers offices. We know that these blankets will be given directly to those individuals fighting blood cancer and will offer the patients hope, love, and warmth. The best part of the day, was while delivering the blankets, LLS ran into Honored Heroes Stanley's father Joe – and he was able to share with Dusty how much LLS has made a difference in his family's life. In return, Dusty was able to hand him a blanket! Thank you to Cleveland Clinic and Adventure Auto Group Subaru for joining LLS in leading the way to cancer cures. This response was received a few days after the delivery from one of the Cleveland Clinic social workers: "On behalf of the Cleveland Clinic Taussig Cancer Center, thank you for partnering with Subaru to provide Cleveland Clinic cancer patients with beautiful knit blankets. At Cleveland Clinic, exceptional cancer care is complemented by a wide range of services that go beyond the medical needs of patients –addressing their emotional, mental and financial needs. Your donation warmed the hearts of many patients visiting our hospital for cancer care. So often, patients and families are visiting our cancer center under stressful circumstances. A kind gesture, such as offering a warm blanket, can help brighten their day. Our social workers were thrilled to be able to share your gift with patients. Sincerely, CP"
---
Adventure Subaru supports the Up Side of Downs - Toni M
We are so grateful to Adventure Subaru for choosing the Up Side of Downs as their Share the Love local charity in 2018. Our mission is to provide support, education, and advocacy for individuals with Down syndrome, their families, and communities. The funding we have received from Adventure Subaru is being used to support our education programs. These include The Learning Program, for children with Down syndrome in grades Pre-K to 5, and our new TEEN Enrichment program. Both programs provide math and reading enrichment. The Learning Program also has speech and occupational therapy components. Additionally, TEEN Enrichment focuses on life skills. USOD relies entirely on private donations to fund our programs so this donation from Adventure Subaru is critical for us. Everyone there has been such a pleasure to work with. Special thanks to Dusty and Rachel! It's clear that commitment to the community is important to this organization!
---
LLS Loves Subaru! - Kerri P
We are excited to be partnering with you again for Subaru Loves to Care in June. Thank you to the staff and Subaru buyers! On behalf of our patients and their families, you make a difference.
---
Share The Love makes dreams come true - Katie E. - Katie E
Believe in Dreams is so grateful to have had the support of Adventure Subaru this past holiday season. Adventure Subaru donated $250 for each car sold in which the buyer chose the hometown charity (from 5 other National Charities). Believe in Dreams is a local non-profit serving northeast Ohio children. Our mission is to fulfill dreams for economically disadvantaged youth who have survived non-medical adversity by providing access to enriching opportunities, connection to community and hope for the future. We have fulfilled over 100 dream experiences since our inception in 2014 and thanks to the help of Adventure Subaru, will be able to fill so many more. This was the response from a parent of one of our dreamers, 3 months after his dream experience, "He is now graduating from his counseling program and I think a lot of it has to do with what you've done for him. Knowing others believe in him has helped him believe more in himself." Thank you Adventure! www.believeindreams.org
---
I'm Not Alone! Adventure Subaru Gives Back - Kerri P
"Hey look, dad, it's a group for me!" This was the response from a patient at The Cleveland Clinic Taussig Cancer Center when Dusty Blechman and Rachel Lufkin from Adventure Subaru handed him a blanket and "Care Card" written by children who had visited their location in Painesville, Ohio. Adventure Subaru has partnered with the Northern Ohio chapter of The Leukemia & Lymphoma Society for three years and we are beyond grateful! Their tangible signs of support through the delivery of blankets, arts & crafts kits and care cards helps us support patients undergoing treatment but also their families as of today's visit highlights. The young man who shared that LLS was a "group for him" is a survivor of lymphoma and the blanket was a reminder that no one walks through this journey alone. His dad quickly asked if we had a few moments to wait. "This is really kind of Subaru and LLS - would you wait until I can get my wife who is undergoing her own treatment for cancer?" Father and son were at Taussig today supporting their wife/mom who is now undergoing treatment for her own diagnosis. A cancer diagnosis impacts the entire family and this family has been hit twice. Thank you Adventure Subaru for making the world a better place. Your commitment to show love and respect to your customers and to make a positive impact in the world was on stage today. Thank you for joining LLS in leading the fight to cure cancer.
---
One School, One Book - Jennifer K
For the past couple years, Buckeye Elementary has participated in a program called One School, One Book. The idea behind the program is to provide the same book to all students, teachers, staff, and bus drivers at the school so that we can read together as a school community. This year, we wanted to participate but our funds were low. We reached out to Bobby Lohn and Adventure Subaru and they donated 400 books to our school community without hesitation! Everyone enjoyed reading Charlie and the Chocolate Factory together! Thank you Adventure!! Jen K. Riverside Local Schools--Buckeye Elementary
---
2nd Subaru Pet Adopt-a-thon was a big hit! - Leah B
On Saturday, March 3rd, Adventure Subaru in Painesville teamed up with Geauga Humane Society's Rescue Village to put on their second Certified Pre-owned Pet Adopt-a-thon. Rescue Village brought 13 dogs and puppies this time around and all but 4 found their forever homes. Big shout out to Adventure Subaru for helping to find the families of 9 dogs and for putting on another successful event!
---
Certified Pre-Owned Pet Adopt-a-thon - Leah B
On Saturday, October 21st, Geauga Humane Society's Rescue Village teamed up with Adventure Subaru to put on our first ever Certified Pre-Owned Pet Adopt-a-thon. Rescue Village brought 16 puppies and 7 kittens who were looking for homes. All 16 puppies and 2 of the 7 kittens were adopted by the end of the event. Rescue Village also took in some very generous donations from people in attendance and those who dropped items off at Adventure Subaru leading up to the event. Thank you so much to Adventure Subaru! We hope we can do this again very soon and find some more homes for animals in need.
---
ELCCC Social Media Photo Contest - Katrina M
The Eastern Lake County Chamber of Commerce along with (GRIN) Golden Retrievers in Need with the sponsorship funded by Adventure Subaru offered chamber members to take a photo of themselves with their customer to then submit the photo to one of our social media sites, using the #chamberclient hash tag. The more photo's you entered the better chance you had of winning. Two winners were drawn at Adventure Subaru's Painesville location. One at random and one based on creativity. One of the winners photos is displayed below, take a look at the winning 'pig'! Thank you Adventure Subaru for your sponsorship! We launched the contest creating a buzz for the Eastern Lake County and GRIN. Please choose Adventure for your Subaru needs and help those Golden Retrievers in need @ www.grinrescue.org Thank you again for everything! -Linda, Kathleen & Katrina
---
Golden Kisses - Lisa K
Golden Retrievers In Need (GRIN), a NE Ohio dog rescue dedicated to rescuing, providing much needed medical care and finding adoptive homes for Golden Retrievers for the past 25 years, was invited to participate in an event, in conjunction with the Eastern Lake County Chamber of Commerce, at Adventure Subaru in Painesville. We set up a Golden kissing booth where folks could get their pictures taken with our GRIN ambassador dogs and interact with customers and the public. We had five dogs and four volunteers and a number of customers streaming through the facility for some Golden loving! Fun was had by all! We appreciate Adventure giving us the opportunity to further GRIN's mission of raising awareness of dogs in need, adoption and education on responsible pet ownership. Sending Golden kisses to all!
---
Working Together to End Blood Cancer! - Daryl R
The Northern Ohio Chapter of the Leukemia & Lymphoma Society is grateful for the support of Adventure Subaru. Our paths crossed this summer at the Cleveland Clinic where we gave away blankets to those receiving cancer treatment. From there, we could see that the staff was truly focused on helping to alleviate the burdens of blood cancer patients. In the weeks that followed, Rachel invited us to share information about our Light the Night walk during their blood drive. The staff also organized a car show which would benefit LLS. All of these efforts help us raise money for critical, life-saving cancer research and patient relief services. We are so thankful to have found an ally in them and look forward to continuing our relationship. Together, we can work to make "someday" today!
---
Adventure helps turn Type One into Type None! - Joelle K
Adventure Subaru is helping turn Type One into Type None by "Sharing the Love" with JDRF. JDRF is the leading global organization funding type 1 diabetes (T1D) research. Our mission is to accelerate life-changing breakthroughs to cure, prevent and treat T1D and its complications. We are very thankful for the generosity of Adventure Subaru and the funds they were able to donate to JDRF through the Share The Love program. This donation will make a huge difference in the lives of the 1.25 million Americans that currently have T1D and will help fund the research that's currently being done so that no more are diagnosed. From all of us at the Northeast Ohio Chapter of JDRF, we thank you for sharing your love and look forward to continuing our partnership in the future!
---
I Won The 2017 SUBARU IMPREZA For Real - Dawn M
On February 8, 2017 I was on Facebook and saw this 2017 Subaru Impreza Giveaway that my friend Kevin from Willow Wash posted. You never know if these contests are real or not but, I had a strange feeling about this one. I entered once a day for the next couple of days and on February 11th they called me and told me I was one of the ten winners of a key. To say I was a bit overexcited on the phone is probably and understatement. It was a really long week and I had everyone praying and crossing fingers for me. Not only did Adventure Subaru of Painesville have an awesome event on Saturday, they gave away prizes, had Chick-Fil-A for lunch, then it was time to pick the keys, I was the last one to get my key and #6 to try and turn on the car. The anticipation was killing my family and I. It finally made it to me and I got in and it started! I won the car! I can't even begin to explain my excitement and shock! I'm still in shock!!! I've been driving my Subaru Impreza all weekend and loving it! Adventure Subaru, I can't tell you how grateful my family and I are that I won the 2017 Subaru Impreza for a year. My car was a 12 year old Dodge Caravan on it's last leg and my husband's car payments weren't up for over a year. Two car payments for most people is not easy these days and would have been really rough on us. So, thank you Adventure Subaru for having a Real Contest and yes, I know that the "Subaru Love" is real! Thank you, thank you Subaru for "Sharing the Love"!!!
---
Subaru Share the Love - Jamie M
Our family would like to say thank you to Rachel Lufkin and all of the wonderful people at Subaru who organized the Subaru Share the Love Hometown Charity event at BW3'S in Willoughby. This event benefited research for juvenile diabetes. We were so amazed at the love and kindness that went into making this event so enjoyable for our whole family. We won tickets to see the Harlem Globetrotters. My husband and 10 year old son had the best time together downtown! Thank you so much for an exciting and magical evening that he will remember his whole life! We are so surprised and pleased that Subaru works so hard to connect & provide support for the community. Simply the best!
---
School Supplies Donation - Nick C
For the second year in a row, Subaru in Painesville Township reached out to Riverside Local Schools to donate school supplies at the beginning of the school year. These school supplies go a long way as not all of our students in the District can afford new school supplies every year. We want to thank Subaru for their generous donations for each of the past two years. -Nick Carrabine, Communications Director at Riverside Local Schools
---
Share the Love - NMSS - Heidi W
The Ohio Buckeye Chapter of the National Multiple Sclerosis Society was thrilled to receive a generous donation from Adventure Subaru through the Share the Love Program. Their staff was friendly, easy to work with, and dedicated to our mission. We look forward to partnering again in the future. Thank you again for supporting our cause of ending MS forever.
---
SUBARU LOVES PETS - Gina H
We had a GREAT EVENT @ ADVENTURE SUBARU! Many applications and potential adopters on the horizon, including a few from the Subaru staff! We are also so very thankful for the donations we received. Jerry Bennett and Dusty were a great help as well though the entire event. We can not THANK YOU enough for hosting this event and giving all the these beautiful dogs and cats a chance at a wonderful life. THANK YOU!
---
Celebrating Horses, Hounds & History - Laura H
The Chagrin Valley Hunter Jumper Classic is one of the nation's top charity horse shows and home of North America's first show jumping grand prix. This year, it not only celebrated the 50th anniversary of grand prix show jumping in the Western Hemisphere but also the 15th anniversary of recognized competition between teams of horses and dogs in a jumping/agility event, thanks to Adventure Subaru. The Cleveland APL benefitted and the audience loved it so much, we hope to make it an even bigger charity event next year. You don't often see horses without their hounds and you rarely see hounds without their Subarus.
---
ADVENTURE SUBARU - A TRUE FRIEND OF EXCELLENCE! - Belinda G
The Riverside Local Excellence for Education Foundation (R.L.E.E.F.) provides grants in support of innovative educational programs and materials for the students and faculty of the Riverside Local Schools. These grants enhance the regular curriculum and afford a more meaningful and diverse education for students. Our focus is district-wide. R.L.E.E.F. has awarded over $275,000 in grant funding since 1993 - THANK YOU! R.L.E.E.F. also proudly sponsors and acts as the fiscal agent for a variety of scholarships honoring former district educators and alumni. The scholarships benefit and are awarded annually to graduating seniors from Riverside High School. Scholarship forms are available for Riverside Seniors in the RHS guidance office. If you are interested in setting up a scholarship, donating to R.L.E.E.F., or becoming a "Friend of Excellence," please contact us at supportrleef@rleef.org
---
Helping Dogs in Need - Greg M
I attended the Muttley Crue's 2nd Annual Mardi Paws fundraiser on February 28th. As a photographer, I donated artwork and a dog photography session for the auction. I also photographed dogs that are available for adoption that were displayed at the fundraiser. On March 8th, I'll be using my 2014 Forester to help transport 3 rescued Great Danes from Louisiana to their forever homes in Pennsylvania and Canada! My Forester is great for transporting my photography gear, art prints, our own 2 rescue dogs, and other dogs in need of transport volunteers to help them get to their forever homes. I couldn't do any of these things without my 3rd Subaru vehicle!
---
Muttley Crue Mardi Paws Event - Bonnie P
Mardi paws is here - Driven by Adventure Subaru in Painesville! Come out and enjoy a FUN FESTIVE evening for our 2nd annual Mardi Paws fundraiser on February 28, 2015. This year will be BIGGER & BETTER than last year! We are excited that the DoubleTree by Hilton Cleveland East Beachwood will be hosting our fantastic evening. Driftwood Restaurant Group with Chris Hodgson, winner of Food and Wine magazine's The People Best New Chef, will be the preparing our culinary delights. Entertainment with our DJ and live music will keep you dancing. There will be TONS of AMAZING raffle and silent auction items up for grabs. Come out for a fun filled evening, and more importantly help Muttley Crue save dogs in need! See more on our website at http://adventuresubaruohio.com/muttley-crue-mardi-paws.htm
---