The 2022 Subaru Love Promise Community Commitment Award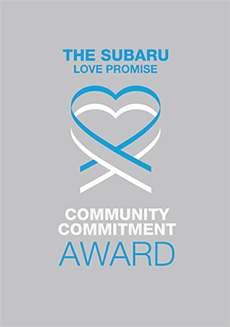 We've been nationally recognized for our dedication to our community and the Subaru Love Promise.
We're honored to receive the 2022 Subaru Love Promise Community Commitment Award. This award nationally recognizes Subaru retailers who are making the world a better place while demonstrating an outstanding commitment to supporting passions and causes in local communities. These efforts are focused in important areas such as the environment, community, health, education, and pets.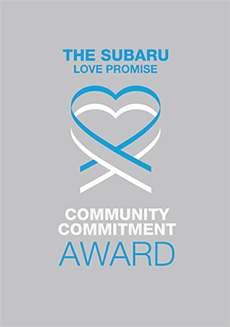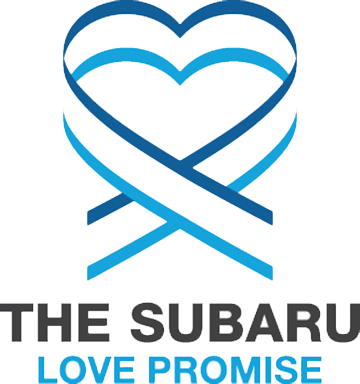 What is the Subaru Love Promise?
Subaru and our retailers believe in making the world a better place and the Subaru Love Promise is our vision of respecting all people. This is our commitment to show love and respect to our customers and to work to make a positive impact in the world.
How is Adventure Subaru dedicated locally to the Love Promise?
Our Love Promise can be seen in various partnerships with local charities and non-profits. We're grateful for the opportunity, not only to be a part of our community, but to serve it as well.
The Chagrin Valley Hunter Jumper Classic, Muttley Crue Rescue, GRIN Rescue, ASPCA, Geauga Humane Society Rescue Village
The Riverside Local Excellence for Education Found, Mentor Public Schools, Willoughby Eastlake City Schools
The United Way Feed Lake County, Believe In Dreams, Eastern Lake County Chamber of Commerce, Mentor Youth Softball, Make A Wish
National Multiple Sclerosis Society, Juvenile Diabetes Research Foundation, Leukemia & Lymphoma Society, American Red Cross
Love Promise Stories from Adventure Subaru
Subaru and Adventure Subaru believe in making a positive impact on the communities in which we live and work. We uphold that belief through our Love Promise Community Commitment. Every month, we select inspiring stories from customers and partners from around our area who strive to support our collective commitment and feature them here
Stuff the Subaru - John H
A big THANK YOU to Adventure Subaru in Painesville Township for collecting these donations on our behalf and dropping them off at the shelter! We are so appreciative of everyone who donated items to help us serve our guests 🤲
---
Adoption Event, National Make a Dog's Day! - Lisa I
Rescue Village held an adoption event last Friday, 10/22/21, at Adventure Subaru in Painesville, celebrating National Make a Dog's Day! This was our first adoption event in almost 2 years due to the pandemic. We took 5 dogs and 2 kittens. One dog, Lucas, got adopted and so did a kitten named Winky! While some of the other animals are still waiting to be adopted, it was a wonderful field trip for them all and they enjoyed getting extra love and attention from the Adventure Subaru staff and customers! Adventure Subaru is an amazing partner to Rescue Village and we are grateful for their support of our mission and their dedication to rescue pets. In addition to the adoption event, they are sponsoring the adoption of 31 animals in October and every dog got a Bark Box and all animals got a stuffed Subaru toy car that even the cats enjoyed because it made a crinkle sound :) A special thank you to Dusty, who always helps us with whatever we may need to get the animals noticed and ensure we have a great event.
---
Adventure Subaru - Golf Outing Sponsor - Kelly D
The Eastern Lake County Chamber of Commerce was delighted that Adventure Subaru stepped up and supported the chamber's 2021 golf outing as the Registration Sponsor. Sponsorships are critical to the success of our events, especially the golf outing, the chamber's largest annual event. Golf sold out at 144 golfers and everyone who came to the event on August 6 passed through Registration and saw the beautiful vehicle that Adventure Subaru brought to the course. It made the Registration area look amazing. Adventure Subaru is a fantastic chamber member and is always willing to assist the chamber and advance its mission.
---
Adventure Subaru's Support of UCP in Cleveland - Renee C
Not long after the global coronavirus pandemic hit in early 2020, UCP of Greater Cleveland received notice that we were chosen as Adventure Subaru's local nonprofit of choice for the 2020 year-end Share the Love Event. As many can believe, this came as shining, positive news during an otherwise very gloomy time. Since then, Dusty and his team have provided incredible opportunities for our staff to speak to sales associates at the dealership as well as film commercial spots, all of which help to further educate the public about our mission to serve children and adults with a wide range of disabilities. We are so appreciative and look forward to continuing this partnership!
---
Exceptional Service and Support Always - John C
Having purchased 3 Subaru's from Adventure Subaru Painesville they have always exceeded my expectations in regards to sales and customer service. Whenever I have any issues I know I can reach out to the team there specifically Vicky Musa, to make sure things are taken care of quickly and professionally. Whether its help on promotions, getting loaners or just making things easier for the customer - Adventure is always willing to do whatever it takes to satisfy the customer!
---
Make a Dog's Day! - Lisa I
Thanks to Adventure Subaru, we had our first-ever LIVE virtual showcase of over 22 animals. Due to COVID, our doors have been closed to the public, but our adoptions continue by appointment. It can be very difficult for people to choose who they want to meet without getting to see them in person, and having a live showcase was a great, new way for us to connect with our community of adopters and general animal lovers. Without Adventure Subaru's help, the showcase would not have been possible or even conceivable. We didn't know how to go about filming and ensuring we wouldn't lose internet connection, how the weather would hold out, how the animals and volunteers would manage a "parade" of dogs, especially LIVE. But it went GREAT, and we were so proud. Dusty Blechman from Adventure Subaru went above and beyond by helping us create a modified video version of the live event with employee titles and all the names of the animals, which we plan to use for marketing and on our website. The virtual showcase allowed us to find homes for dogs like Roy. Being a big bulldog, to many his looks were quite intimidating and he had been in another shelter for over a year. Many dogs will deteriorate mentally long before a year, but Roy held on and we scooped him up. The virtual showcase we held helped Roy and many other dogs like him get noticed and he was adopted the next day! Adventure Subaru also gave us bags that we put treats and toys in for the adopters. We are so grateful for our partnership with Adventure Subaru who were the wind beneath our wings for such unchartered territory as a live, virtual showcase! We are by no means professionals at live streaming, but we learned a lot and had so much fun and look forward to doing similar showcase events but on a smaller scale. The showcase was also a great way for people to learn more about who we are and what we do and meet some key staff members that make it all happen. Thank you Adventure Subaru!!
---
Adventure Subaru and the Cleveland Auto Show - Lisa I
We were THRILLED to be contacted by Subaru of America to be one of the key rescue agencies for an Adoption Event at the Cleveland Auto Show in Feb-Mar of 2020! Adventure Subaru, our community partner, set up a beautiful, large space that was decorated like a park with a gate for us to have our animals and keep them safe and clean while interacting with the public. Over 45 puppies were adopted through the two-weekend event! Adventure Subaru also set up a by-donation dog tag machine to ensure that all the puppies went home with proper I.D. and Rescue Village received the donations, along with generous donations from both Subaru of America and Adventure Subaru to keep our transport and adoption programs running strong! We received so much positive feedback from the visitors and adopters and can't thank Subaru enough for supporting us and our mission to save more lives and create a more humane community. One of the puppies that was adopted at the Cleveland Auto Show, Samson, attended our annual fundraising event, Woofstock, this summer, to play on the lure course! The staff was so excited to see him and be a part of his Adventure, and his parents were so proud and happy they found him at such a unique, fun and memorable Subaru event! We look forward to seeing Samson, and many more rescues thrive through our valued community partnership with Adventure Subaru -- they truly care about our rescues and the animal-loving community and go above and beyond with their support!
---
Walk to End Alzheimer's - Kathryn F
Adventure Subaru was a phenomenal Start Strong sponsor this year for the 2020 Kirtland Walk to End Alzheimer's! Rachel and Dusty were so incredible to work with during every stage from the first initial conversation, to Sponsorship, starting their Walk Team and truly the entire overall experience. Their passion for our mission and a world without Alzheimer's and all other Dementia's is so evident. They poured their hearts and souls into supporting the Association in many ways; fundraising, marketing and awareness just to name a few. Their presence during the view only Promise Garden display was a perfect way to start the drive-through experience. I look forward to working with Dusty and Rachel in the future and feel so blessed that our paths cross to connect this year to start a beautiful partnership for a cure. Kathryn Fellenstein Development Manager Alzheimer's Association- Cleveland Area Chapter
---
June 2019 - Subaru offers hope, love and warmth! - Lindsay S
Dusty Blechman of Adventure Auto Group Subaru was thrilled to visit The Cleveland Clinic Taussig Cancer Center. Armed with blankets and art kits, Amanda Maggiotto of the Cleveland Clinic guided Dusty and Executive Director, Lindsay Silverstein from the Northern Ohio Leukemia & Lymphoma Society chapter to visit the Taussig Cancer Center art room and to deliver the blankets to the social workers offices. We know that these blankets will be given directly to those individuals fighting blood cancer and will offer the patients hope, love, and warmth. The best part of the day, was while delivering the blankets, LLS ran into Honored Heroes Stanley's father Joe – and he was able to share with Dusty how much LLS has made a difference in his family's life. In return, Dusty was able to hand him a blanket! Thank you to Cleveland Clinic and Adventure Auto Group Subaru for joining LLS in leading the way to cancer cures. This response was received a few days after the delivery from one of the Cleveland Clinic social workers: "On behalf of the Cleveland Clinic Taussig Cancer Center, thank you for partnering with Subaru to provide Cleveland Clinic cancer patients with beautiful knit blankets. At Cleveland Clinic, exceptional cancer care is complemented by a wide range of services that go beyond the medical needs of patients –addressing their emotional, mental and financial needs. Your donation warmed the hearts of many patients visiting our hospital for cancer care. So often, patients and families are visiting our cancer center under stressful circumstances. A kind gesture, such as offering a warm blanket, can help brighten their day. Our social workers were thrilled to be able to share your gift with patients. Sincerely, CP"
---
Adventure Subaru supports the Up Side of Downs - Toni M
We are so grateful to Adventure Subaru for choosing the Up Side of Downs as their Share the Love local charity in 2018. Our mission is to provide support, education, and advocacy for individuals with Down syndrome, their families, and communities. The funding we have received from Adventure Subaru is being used to support our education programs. These include The Learning Program, for children with Down syndrome in grades Pre-K to 5, and our new TEEN Enrichment program. Both programs provide math and reading enrichment. The Learning Program also has speech and occupational therapy components. Additionally, TEEN Enrichment focuses on life skills. USOD relies entirely on private donations to fund our programs so this donation from Adventure Subaru is critical for us. Everyone there has been such a pleasure to work with. Special thanks to Dusty and Rachel! It's clear that commitment to the community is important to this organization!
---